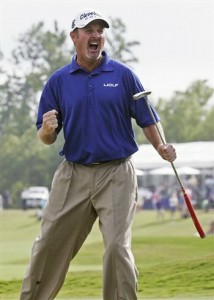 He held on, held tight and pushed away all challengers to take home top honors in New Orleans…the question is, what was hiding inside that golf back of his that helped him snag the #1 spot and the $1.1 million prize that accompanied it?
A Peek in the Bag
Glad you asked.  It's always interesting to take a peek inside the bag and see who is playing what, when, and why.  Looks like Kelly is still very much supporting Cleveland Golf in his bag, but to take home the victory in New Orleans, a new shaft was placed on his clubs, the Miyazaki prototype shaft.  Apparently he's not the only golfer to strap that into his clubs, as Vijay Singh is also jumping on the Miyazaki bandwagon.
Custom Shaft for Cleveland Driver
The new shaft is apparently very rigid and tailored to fit players who swing extremely fast, as it helps resists twisting.  Nevertheless, here are the clubs Kelly needed to take home the number 1 spot:
DRIVER: Cleveland Launcher (7.5°) with Miyazaki prototype X shaft
FAIRWAY WOOD: Titleist 906 F4 (13°) with Graphite Design Pershing 85g X shaft
HYBRID: Cleveland HiBore XLS (16°) with Graphite Design YS Hybrid 85 X
IRONS: Cleveland CG7 Tour (3-9) with True Temper Black Gold X shafts
WEDGES: Cleveland 588 (47°, 53°, 60°) with True Temper Dynamic Gold S-400 shafts
PUTTER: Cleveland Classic #3
BALL: Titleist Pro V1x (2009)
Miyazaki Shaft Not Available in Retail
I wonder how many tour victories Titleist already has this year.  While the Miyazaki shaft Kelly played is currently unavailable to anyone other than Tour Pro's and people with very lofty connections, rumor is that it might hit the market later in the year.  If you're a player with a very fast swing, keep your fingers crossed for that one.
Congratulations Kelly, Congratulations Cleveland
Congratulations to Jerry Kelly, and Cleveland for getting a big time win.
(AP Photo/Bill Haber)
---