Known for top quality Japanese golf equipment Fourteen Golf once again appeared strong with many new releases at the big show this year. In 2008 Fourteen Golf Inc. was acquired by Daiwa Seiko which is the parent company of the popular equipment brand ONOFF Golf.  In 2009 Fourteen Golf brings a variety of exciting new products to both the US and Japanese Golf markets.
- 2009 Fourteen JC909 Driver
- 2009 Fourteen MT28 J-Spec II Wedge
- 2009 Fourteen V4 Forged Wedge
- 2009 Fourteen  UT-306
---
"This moment and Oakmont triumph were the happiest moments of my life", said Master Tournament winner, wearing the traditional Green Jacket which is given only to winners of one of the most traditional Golf Tournaments.
After a sudden death playoff with Kenny Perry and Chad Campbell, Cordoba's man won Master in Augusta National and went down in history as the first Argentinean who won two Major Tournaments; 2009 Augusta National and 2007 US Open.
Cabrera finished four rounds with 276 shots, twelve under par; and won playoff game one shot ahead.
Cabrera and Perry were co leaders together with American Chad Campbell who, during the first distressing playoff in hole 18, was eliminated with one shot above par.
Cabrera beat American Kenny Perry in the second playoff hole.
Cabrera finished first on Saturday but did not have a good start in the fourth round. He made bogeys in holes 4, 5 and 10 and a birdie in hole 3.
Also, Cabrera had to face World number one Tiger Woods' and Phil Mickelson's recovery in fourth round.
However, Augusta's Champion was not discouraged by players' pressure or game's difficulties. He was determined win.
---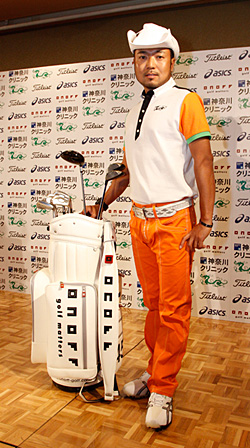 Widely regarded as one of Japans great all time golfers along with the likes of Jumbo Ozaki and Tommy Nakajima, Shingo Katayama has made the move from being a long time Nike pro to the much smaller ONOFF brand. Widely regarded as the face of Japanese Nike, it is a surprising move but a good fit for ONOFF.
Katayama who showed up at the press conference donning his typical cowboy style golf hat now with a ONOFF logo on it was also all decked out with his new clothing and shoe sponsors. He will now wear Dance with Dragon one of Japan's premier boutique brands and wear signature Asics golf shoes.
Katayama is also changing his ball from Nike One to Titleist Pro V1x. His new bag will feature:
ONOFF 2009 Driver
ONOFF Fairway Wings Woods
ONOFF Iron Plus Forged CB
All this new gear will be on display at the Masters in Augusta this week where Katayama hopes to contend.
ONOFF is a subsidiary of Daiwa Sports, which also include GIII and Roddio Shafts. Asics has long been a premier running shoe and fashion shoe maker in Japan known for style and functionality.
Check out all his latest gear in the TSG Pro Shop!
---