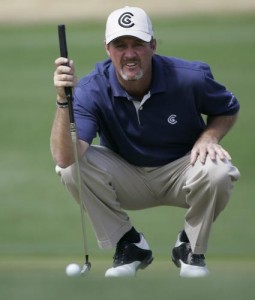 New Orleans might be shaping up to be a pretty kind little trip for Jerry Kelly if he can just hold onto the lead he has this morning.  The simple fact that he shot a bogey-free round at 3-under yesterday means that he is fairly set up to take home top honors today.  All he has to do is hang on.
$1.1 Million or Fun...You Decide
When asked his motivation for this tournament, you'd think the $1.1 million purse would have something to do with it?  Au contraire, because all Jerry Kelly wants is to have some fun.  When asked how he'd approach his round today, here's what Kelly had to say:
"I'm going to try to have fun and see what happens...That's the key to my success when I come to a place like this. I have fun outside the ropes and inside the ropes."
Luckily for Kelly and the rest of us, when it comes to fun he's in the best place possible.  New Orleans, with its music, bars and nightlife is certainly a hotspot.  The question is, will the fun he's looking for in New Orleans translate into a fun end of the day this fine Sunday and a giant check?  Time will tell.  Truth is, he's got some work ahead of him.
Marino Making A Surge
Some of that work will just be keeping Steve Marino out of his head and off the top spot on the scoreboard.  At the close of yesterday, Marino had made a healthy charge towards the leader by shooting an impressive, albeit shakey at times, round that put him in second place all alone at -10.  If anyone is in position to take out Kelly, it will be Marino, but once again, he too has some work to do.
Time to Tune In
Tune in today, it should be a finish worth catching and hopefully will have a few of the lesser known stars of the PGA Tour taking home a bit of spotlight alongside their paychecks.
(image via UPI.com)
---