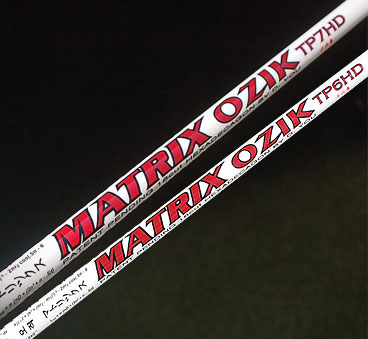 Ozik Releases it's new top of the line performance shaft
Matrix has created new levels of structural strength and combined them with advancements in spin control. "HD" refers to the hexdecagonal (16-sided) internal platform on which the new designs are built. With the stronger 16-cutt butt section, Matrix engineers were able to better structure and strengthen the tip without adding overall weight and, at time, even lowering balance points to better match today's high MOI, low CG heads. The result is a stronger tip-strength-to-weight ratio than found with any previous Matrix Ozik.
The internal HD structure can be made more consistently uniform than a circular design, further reducing the need for specific orientation during installation.
In terms of performance, players should look forward to flatter, more piercing Tour-type ball flights and a more stable feeling than they have ever experienced with a Matrix Ozik shaft.
Construction and Materials:
TPHD:
16-Cut Hexadecagon Internal Structure (patent pending)
20 Individual material layers
18 High Modulus graphite layers
1 Full length layer of Japanese Ballistic Zylon
7″ of Matrix-wound 24ton, 50 count Boron Fiber
Strategically-placed section of 1KA Woven fiber
TSG Testing Results:
TourSpecGolf has put a couple of these shafts into the hands of low handicap hard hitting test subjects and overall the results have been promising and impressive.  Official TSG club tester Tatsuro Oshimoto says:
The Ozik TP7HD shaft lowered my ball flight and reduced wayward dispersion for me. I swing at 115mph and found the stiff flex to be a little soft with no tipping whatsoever.  I had TSG send me the strong flex to install into my Nike Dymo driver and this is the perfect flex for my swing. I was able to work the ball considerably more than other shafts I have tested and found a better forward kick with the ball hitting the ground running. I am so pleased with this shaft that I do not want to return it. I wish I could afford it because I feel it would save me a couple of strokes a round at least.  The distance gain over my tester Prototype Diamana shaft was noticeable but more importantly the improvement in my ball flight, dispersion, and forward kick. I give this shaft a huge thumbs up and of the many shafts I have been fortunate enough to test for TSG this is my favorite by a considerable margin.

To learn more about the complete line of Ozik Shafts and to learn where you can purchase a new TPHD model please click here
To find out what flex you should be playing for your specific swing speed please click to Read More and view the official Ozik CPM flex guide…
---